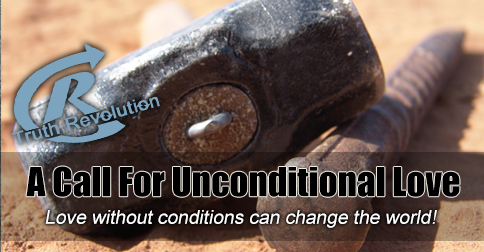 Do you know someone who needs Jesus? We bet you do!
[audio:http://www.truthrevolution.tv/show/TS-0309.mp3]No Flash Support? Use this Audio Player!

Download the MP3
COMMENT BELOW!
Dave: Terror. Violence. Hatred… these are all things associated with…

Jeff: Muslims. Recent media reports and some world events make it clear that there are more than a few who do violence in the name of Islam.

Dave: So, how do Christians respond?

Jeff: With love.

Dave: Okay, but some would point out that they actually are killing…

Jeff: Riiiight. I think Jesus was really clear. He said, "Love your enemies and pray for those who persecute you" (Matthew 5:44).

Dave: He even said, "if you do good to those who are good to you, what credit is that to you? Even sinners do that… love your enemies, do good to them" (parts of Luke 6:33-35).

Jeff: Muslims are people who need the grace of God, just like you and me.

Dave: Let me say that again: JUST LIKE YOU AND ME!

Jeff: Whether someone comes at me with a smile, a frown, or an AK-47 – they are someone who needs to hear the gospel.

Dave: We're all sinners. But, God's gift is eternal life – found in believing in Jesus Christ.
---