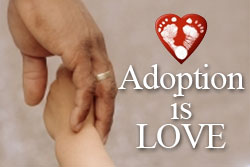 Adoption may be easier than you realize!
[audio:http://www.truthrevolution.tv/show/TS-0157.mp3]
Download the MP3
COMMENT BELOW!
Audio Transcript:
Dave: Many people have said, "I would adopt, but it's just so expensive!"

Jeff: Did you know that adopting from the Kansas foster care system is free.

Dave: As in, it costs ZERO DOLLARS?

Jeff: Yeah! There are hundreds of children who need a loving Mom, Dad, brothers
or sisters… don't let the cost stop you because there really isn't a financial cost!

Dave: But, what about after the adoption? Kids are expensive. [laughing]

Jeff: Well, kids can be expensive. But, children adopted from foster care often
receive the State health care free of charge and can even attend State Colleges
for free.

Dave: So, in many ways adopting a child out of foster care could be cheaper than
having a child biologically, in dollars and cents.

Jeff: I suppose that's true! And even for international, or private, adoptions many
times grants are available, and your Church may help fundraise.

Dave: And the big one – God knows your needs and he cares about the orphan.

Jeff: I firmly believe that if we choose to invite in those kids who need a home,
God will provide.
---