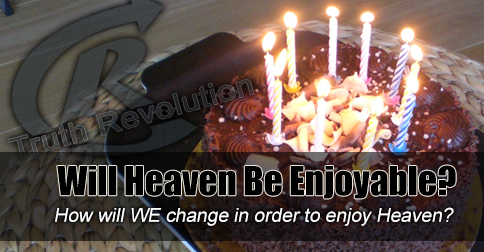 Cake… and Heaven?
[audio:http://www.truthrevolution.tv/show/TS-0290.mp3]No Flash Support? Use this Audio Player!

Download the MP3
COMMENT BELOW!
Audio Transcript
Dave: What will food be like in Heaven? Will we be able to eat as much as we want without getting fat?

Jeff: Yes!

Dave: SWEEEET!!! I'm gonna eat like a chocolate cake every day!!

Jeff: Um, if you did that you'd get fat.

Dave: But, I thought we could eat whatever we wanted to, without getting fat?

Jeff: Yeah, but you will WANT the right amount. You'll be FULLY SATISFIED, and COMPLETELY DELIGHTED with having enjoyed the proper amount.

Dave: Wow, so I'll eat a slice of cake, enjoy it completely the way I was meant to, and be able to quit without pain or regret.

Jeff: Yeah, and when you quit it'll be because you are literally, already completely happy with what you ate.

Dave: This is how much of Heaven will be. It's not that cake, or our bodies, or work disappears.

Jeff: No, those things remain. Life is real, but we'll enjoy life – appreciate the richness and thickness of reality and a much deeper and more gratifying way.
---