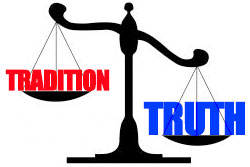 Did Darwin recant on his deathbed or not? and what does it all mean?
[audio:http://www.truthrevolution.tv/show/TS-0263.mp3]No Flash Support? Use this Audio Player!

Download the MP3
COMMENT BELOW!
Audio Transcript
Dave: [in a hick voice] Hey ya'll evolutionists dizn't ya hear dat Darwin recanted on his death bed? Why, he said evolution wuz false!

Jeff: NOT TRUE.

Dave: Christians use this argument, but it's not a very wise line of reasoning.

Jeff: To put it simply, Darwin didn't convert on his deathbed.

Dave: In fact, the evidence from his family indicates he was resolute all the way to his Earthly demise.

Jeff: But, let's assume for a minute that he did recant! What does it mean?

Dave: Nothing, actually. He could've just been a worried old man trying to hedge his bets.

Jeff: It wouldn't have done anything to promote or deny the scientific evidence for or against evolution.

Dave: It would have been a personal statement. That's it. If we're looking for scientific statements, let's get in the science lab and out of the rumor mill.

Jeff: Christians, we have lots of great reasons to believe in Jesus who fulfilled prophecy and rose from the dead. There are powerful arguments for God's existence!

Dave: So, let's use those. Not illogical, and untrue, stories that seem to kinda go around and around in Christendom.
---