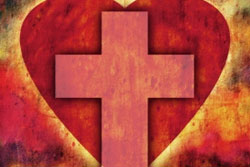 While, as we said in the last Truth Shot, simply showing love isn't enough. But it's HUGE!
[audio:http://www.truthrevolution.tv/show/TS-0177.mp3]
No Flash Support? Use this Audio Player!

Download the MP3
COMMENT BELOW!
Audio Transcript
Dave: All we need is love!

Jeff: Well, as we said in the last truth shot, that's an exaggeration.

Dave: We also need logical reasons and God's Spirit to help people believe.

Jeff: But love is EPIC on the importance scale.

Dave: The Bible uses the word love 574 times. That's almost nine times per book.

Jeff: Love your enemy

Dave: Love your family

Jeff: Love God

Dave: Love fellow Christians

Jeff: Love discipline

Dave: Love people who disagree with you

Jeff: Get the point? Love is kind of a big deal. If we aspire to help people know the love of God, it doesn't make any sense to argue heatedly.

Dave: What convinced us to believe Jesus? It probably wasn't someone hitting us over the head and telling us how wrong we were.

Jeff: It was probably someone who told us truth – with love.

Dave: And there you have folks: TRUTH AND LOVE! It's like chocolate and peanut butter.

Jeff: Shouldn't ever be apart. Mmmmhmmmm…..!
---