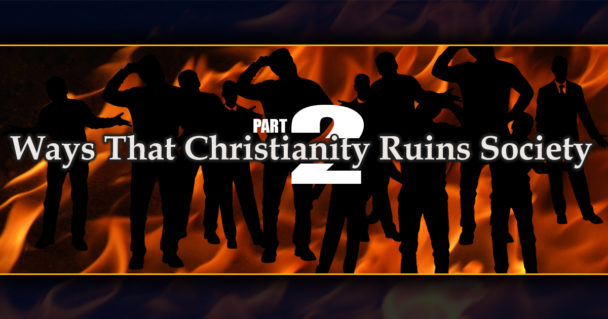 Topic Notes
WELCOME!
6. Making pleasure taboo is harmful

This would be true… if God did not exist
Proverbs 9:3-4 and Proverbs 9:13-16
Proverbs 9:17-18
The pleasures of sin are fleeting and lead to death
Real joy comes with our eternal rewards
We have a higher joy available to us!
What about the fruits of the Spirit?
We shouldn't live in the moment. Instant gratification does not last

7. Christianity has a long tradition of holding back scientific progress.

The story of Galileo is overused to prove this point
There is a difference between stem cell research and embryonic stem cell research
Mainstream churches do not normally hold medicine back in anticipation for God to heal
The article talks of exceptions… not the rule
Many early scientists believed in God… as do many contemporary scientists.
Early scientists got into science to explain and discover God and His creation
Here is our long list of scientists who were persecuted by the church… Galileo… umm… and Galileo?

8. Life sucks for everyone else when Christians rule the world.

This is just plain wrong
Christianity has fought against slavery and exploitation since the first century.
Let's compare Atheist Governments to Christian Governments

9. Prayer is Useless

Jeff and his Prayer Journal
What comes from prayer? People who do the work!
Bible Contradiction
Was John the Baptist Elijah who was to come? John 1:19-21 vs Matthew 11:14
Resources
READ: 10 Ways Religion Ruins Society by Wise Sloth
---