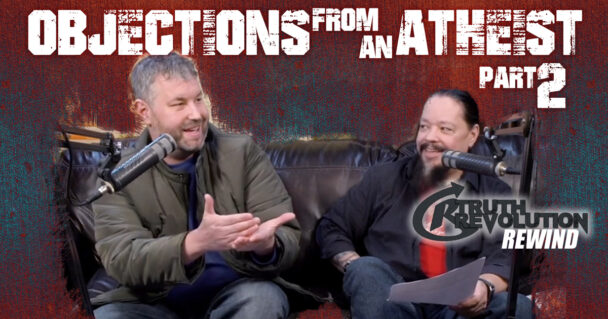 Topic Notes
THIS SHOW FIRST AIRED ON APRIL 7, 2019
Part One of Objections from an Atheist can be seen here
If God's word is so inerrant then how come all religious people seem to think all the other religious people are so wrong?
If fetuses are innocent, shouldn't we be thanking abortion doctors for sending babies to heaven?
If I'm sick, should I pray, or go to the doctor?
If I should do both – which one would help me more?
Why won't you heal amputees?
Why don't you hire an editor for the bible? Because it's long, boring, full of contradictions and really repetitive.
Why is your last name Da**it?
Was it hard for your son growing up in the middle east being the only white kid in the neighborhood?
What do you have against foreskin?
How DO magnets work?
How come your son supposedly died for my sins, but you brought him back to life… you went back on your word.
Why do you get all of the credit but none of the blame?
Who broke your heart so badly that you have to take out your wrath on women?
Why would you create such a vast universe and then only inhabit one planet?
Why are so many people allergic to so many of your creations?
How come our bodies have a sewage system next to an amusement park?
How come science keeps proving you wrong?
---