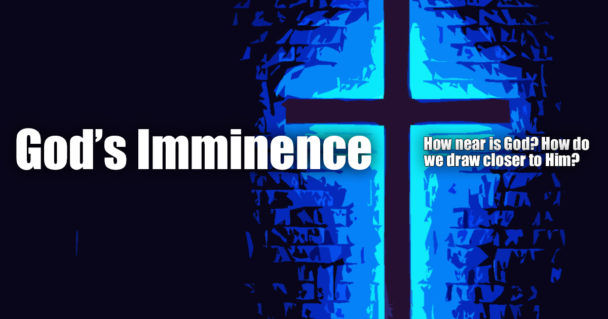 Topic Notes
WELCOME
God's imminence (nearness)
Jeff's sled story
Proximity is a huge deal
How close is God to us
Psalm 139:7
Dave and his hypothetical/rhetorical
Psalm 139:8
Psalm 139:9-10
There is no place on Earth that you can go to get away from God
Psalm 139:11-12
GOD IS VERY NEAR!
God's presence is everywhere
A.W. Tozer's bucket/ocean analogy
This is God's relationship to the Universe
God penetrates EVERYTHING
Why does God sometimes feel so far away?
A lesson from Greek Mythology: Dionysus
1 Kings 8:27
God is too big to be contained
Hosea 11:9
God is: Perfect, Sinless and always does what is right
Dave and Jeff: Sinners and imperfect
A.W. Tozer – Communing with animals?
The natures of fish and man / man and God
It's not a matter of being closer to God, but to have fellowship with God, we need a DIFFERENT NATURE.
This is why scripture talks about becoming a new creation
Jeff and his relationship with a fish
God became man… so He could get to know us!
Dave and his pet fish
We can't have a relationship with God because we are to dissimilar
So the answer is to CHANGE OUR NATURE
John 3:19-21
The primary reason we don't sense the presence of God is because we DON'T WANT to sense the presence of God.
1 John 1:5-7
We must desire God in order to change our nature
What is 'walking in the light'?
Bible Contradiction
via thoughtcatalog.com
Submission to God or the Government
1 Peter 2:13 vs. Acts 5:29
Listener Question
"I was very upset one day and I told a friend about it and said that I knew if I could just calm down enough to pray I'd feel better. My friend said that it's prayer that changes you, not God. Is that true or is there more to it?"
---