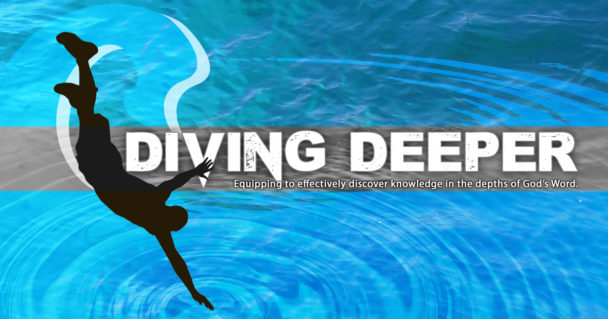 Topic Notes
Bible Study Tools
Must have a good translation
Most of the Bible was written in Hebrew (the Old Testament) and Greek (the New Testament) so it must be translated into English.
"The trouble with using only one translation, be it ever so good, is that you are thereby committed to the exegetical choices of that translation as the Word of God." – Fee/Stuart (How to Read the Bible For All Its Worth, p33.)
"Exegesis" is when you read the Bible and draw truth from it
"Eisegesis" is where you believe something and insert it into the text you are reading."
The goal is always exegesis. But, each translation makes an exegesis of their own.
The point is that it is best to use multiple translations if you can
List of (some of the) Good Bible Translations
New English Translation (NET) published in 2005 (Has no copyright!)
Today's New International Version (TNIV) published in 2005 (Easy to read)
The Message (Message) published in 2002 (Paraphrase – do not use this alone)
New International Version (NIV) published in 1970s, updated 2011 (One of most popular versions in history. Revolution Church uses this for our chair Bibles)
English Standard Version (ESV) published in 2001 (Tries to be more literal of a translation. Includes the apocrypha which we don't use)
New Revised Standard Version (NRSV) published in 1989 (Also includes apocrypha)
The Living Bible (Living) published in 1971 (Paraphrase – do not use this alone)
New American Standard Bible (NASB) published in 1971 (A more literal translation)
King James Version (KJV) published in 1611 (Very hard to read, but good to know because of history and it fits with many study helps)
A Study Bible
A good study Bible can help you understand and interpret parts of the Bible that may raise questions. It can also lend insight into things you were unaware of.
Good study Bibles can also include articles, tables, maps, dictionaries, and all kinds of goodies to help us understand what we are reading.
GOOD STUDY BIBLES UPDATED FOR 2018:
NIV Cultural Backgrounds Bible (link)
Quest Study Bible NIV, Pastor Jeff used this for many years (link)
Quest Study Bible for Teens (link)
Quest Study Bible for Kids NIrV (link)
The Action Bible, comic-book style for kids; great Bible but get another one with it (link)
ESV Study Bible (link)
Biblical Theology Study Bible (link)
NIV Study Bible (link)
NRSV Wesley Study Bible (link)
MacArthur Study Bible (link)
Life Application Bible NIV (link)
Life Application Bible NLT (link)

Some Good Study Bibles (mentioned on the show, 2017)

Quest Study Bible 1994 NIV. Also has short dictionary. Lots of Q&A. Over 100 contributors helped. Good choice.
NIV Study Bible 1995NIV. 44 contributors. Evangelical. Good choice.
Life Application Bible 1993 KJV, LB, NIV, KJV, or NRSV. Focus on application. Very popular.
The Wesley Bible 1990 NKJV. Wesleyan-Arminian perspective focused on Holy living. Many charts and essays.
HarperCollins Study Bible 1993 Includes protestant, Jewish and Catholic perspectives.
New Student Bible 1986 Designed for youth.
Bible Dictionary and Encyclopedia
A good Bible dictionary can provide deeper insight into topics. If you want to know more about "grace" you can simply look it up, and it may include a definition, a list of Bible passages about grace, the different kinds of grace, discussion on how grace should affect us, different ways people use the word grace, etc.
List of (some of the) Good Bible Dictionaries/Encyclopedias
Evangelical Dictionary of Theology $38 A very thorough and complete one-volume encyclopedia about the most important pieces of Christian Theology from a good perspective.
Holman Bible Dictionary $20 A good dictionary, also illustrated with photographs.
Easton's Bible Dictionary
Fausset's Bible Dictionary
Concordance
A concordance allows you to find anytime a specific word is used in the Bible.
Want to look up "Jesus"? No problem – this will tell you every time his name is used.
Note: You probably want to get an exhaustive concordance – it includes every word in the Bible.
Commentary
Commentaries provide articles and insight into specific chapters and verses of the Bible. For instance, if you are studying 1 Corinthians 3:1 there would be commentaries that address the Book of 1 Corinthians, and the 3rd chapter, and verse 1. Commentaries can often longer than the Bible itself because they explain many things about each verse.
Software
Bible Software can be very helpful. An advantage is having everything you need at your fingertips. The disadvantages include being distracted by Facebook, not having the tactile interaction, and not having any Bible tools available if your computer is unavailable or crashes.
(Note: Pastor Jeff does all his sermon work on a computer, but his personal devotions with a Study Bible and other hard books.)
Examples of good software:
PC Study Bible is Pastor Jeff's preferred program (http://www.biblesoft.com). But it does cost money. The Discovery version starts at $34.95 (13 Bible versions, 3 commentaries, 4 dictionary/encyclopedias, Greek-Hebrew resources, and more)
BlueLetterBible.com includes many versions, and some commentaries, dictionaries, and more
BibleGateway.com includes many versions, and some commentaries (including The IVP which is a great one), dictionaries, and more
BibleStudyTools.com includes many versions, commentaries, dictionaries, and more
Books
Most of the tools we talked about today are reference tools. Books are different – they are (usually) made to be easier to understand than reference tools
There are GREAT BOOKS and AWFUL BOOKS. You have to be careful.
Christians should read books in addition to their Bibles. Many authors have put many years into study a specific idea or subject and books can be very helpful to our thinking and living.
However, please, keep the Bible at the forefront!
Great Books to Read List
These books are broken up into three sections based upon the reading difficulty: Fair, Medium, and Difficult. None of the books however, are "easy." They should all be thought about and considered while being read.
Books with an * beside them are highly recommended.
Fair
"The Prayer of Jesus" – Hank Hanegraaff
"The Church God Blesses" – Jim Cymbala
"When God Whispers Your Name" – Max Lucado
"The Book of Romance" – Tommy Nelson
"The Jesus I Never Knew" – Phillip Yancey
* "Resurrection" – Hank Hanegraaff
"Know What You Believe" – Paul E. Little
"More Than A Carpenter" – Josh McDowell
"Beautiful Outlaw" – John Eldridge
Medium
* "Don't Waste Your Life" – John Piper
"The Great Divorce" – C.S. Lewis
"The Potter's Freedom" – James R. White
"Chosen But Free" – Norman Geisler
"Can Man Live Without God?" – Ravi Zacharias
"Jesus Among Other Gods" – Ravi Zacharias
"The Historical Jesus" – Gary Habermas
"The Risen Jesus & Future Hope" – Gary Habermas
"Hearing God" – Dallas Willard
"Approaching Jehova's Witnesses in Love" – Wilbur Lingle
* "Mere Christianity" – C.S. Lewis
Difficult
* "The God Who Justifies" – James R. White
* "The Pursuit of God" and "The Pursuit of Man" – Tozer
"Reasonable Faith" – William Lane Craig
"The Resurrection of the Son of God" – N.T. Wright
"The Divine Conspiracy" – Dallas Willard
"The Creator and the Cosmos" – Hugh Ross
Topics
---