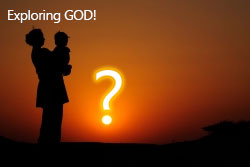 Does God speak to people? How can we know?
[audio:http://www.truthrevolution.tv/show/TS-0217.mp3]
No Flash Support? Use this Audio Player!

Download the MP3
COMMENT BELOW!
Audio Transcript
Dave: Does God speak to Christians today?

Jeff: Some Christians, known as cessationists, believe that prophecy and gifts like that are not for today.

Dave: It's an acceptable Christian view – just not one we'd agree with.

Jeff: But they do bring up a good point – when they want to hear God speak, they turn to the Bible.

Dave: The Bible, as the very words of God, contain what we know are, for certain, from the mouth of our Lord!

Jeff: We must look to the Bible first, and last. If we believe the Holy Spirit has spoken to us in a special way, we have to compare that to Scripture.

Dave: The Holy Spirit will never tell us to do something Scripture forbids.

Jeff: Right – God cannot and will not go against his own word.

Dave: So, if you believe God told you to smack someone for being an idiot…

Jeff: …probably not God speaking to you.

Dave: If you believe God told you to share the Gospel with someone…

Jeff: well, then…why not do it? The Bible already told you that sharing the Gospel with someone is a good idea. So if God is speaking to you and says 'do it', go ahead… share the Gospel.
---