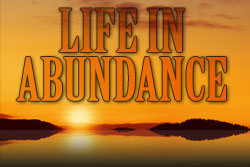 Are you willing to do what it takes to live life to the full?
[audio:http://www.truthrevolution.tv/show/TS-0207.mp3]
No Flash Support? Use this Audio Player!

Download the MP3
COMMENT BELOW!
Audio Transcript
Dave: Jesus said, in John 10:10, "The thief comes only to steal and kill and destroy; I have come that they may have life, and have it to the full."

Jeff: BOOM! Having life to the full is God's desire for you.

Dave: So, what is the abundant life?

Jeff: It's a life that finds its entire worth in, makes its mission the spread of, and enjoys ultimate satisfaction in, knowing and savoring Jesus Christ.

Dave Jesus says, in Luke 9:23-24,"If anyone would come after me, he must deny himself and take up his cross daily and follow me. For whoever wants to save his life will lose it, but whoever loses his life for me will save it.

Jeff: Whoa. Jesus wants to give us a full life. Not a safe life.

Dave: Jim Elliot once said, "Consume my life, my God, for it is Thine. I seek not a long life, but a full one, like You, Lord Jesus."

Jeff: That's a good prayer – NOT A LONG LIFE, BUT A FULL ONE!
---