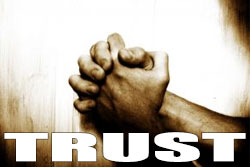 Trusting God is hard. Even more so when we've been wronged.
[audio:http://www.truthrevolution.tv/show/TS-0190.mp3]
No Flash Support? Use this Audio Player!

Download the MP3
COMMENT BELOW!
Audio Transcript
Dave: Forgiveness is difficult.

Jeff: I think we'd prefer revenge in most cases. But consider Jesus' example:

Dave: 1 Peter 2:23-24 says, "When they hurled their insults at [Jesus], he did not retaliate; when he suffered, he made no threats. Instead, he entrusted himself to him who judges justly."

Jeff: He trusted himself, he committed himself, he surrender himself to God when people were doing wrong!

Dave: This is a crux of forgiveness.

Jeff: The ability to trust that God will judge the right way.

Dave: Trusting that God will look out for you.

Jeff: If you don't trust God, it will be immensely difficult to forgive, because you only believe in your ability to make things right.

Dave: But God can make it right. He can look out for you.

Jeff: Don't retaliate when you're insulted.

Dave: When you suffer, don't make threats.

Jeff: Instead, surrender to God.

Dave: Trust God.

Jeff: Believe that God, who judges everything the right way, will see you and what you're going through and deal with you – and everyone else – the right way.
---