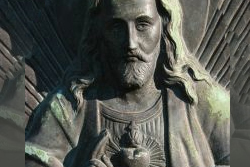 Who is Jesus? Was he created by God? or IS he God?
[audio:http://www.truthrevolution.tv/show/TS-0180.mp3]
No Flash Support? Use this Audio Player!

Download the MP3
COMMENT BELOW!
Audio Transcript
Dave: Jehovahs Witnesses try to show that Jesus was a creation, rather than the creator.

Jeff: They cite Proverbs 8:22, "The LORD brought me forth as the first of his works, before his deeds of old"

Dave: Well, is this about Jesus – and does it show that he was a creation?

Jeff: The book of Proverbs personifies wisdom during the first nine chapters. There's no reason to believe that this book temporarily suspended the discourse on wisdom to speak of Jesus as a creation, only to pick it up again in the next chapter.

Dave: In fact, wisdom is referred to as she, in previous chapters. If this personification of wisdom is truly about Christ we must believe that Jesus is a woman – hardly a stance the Witnesses would want to take.

Jeff: Now, the Jehovah's Witnesses say early Christian writers used this section to refer to Jesus symbolically.

Dave: That's true. But "the Christian fathers generally understand this passage of the humanity of Christ. The Lord created me, in respect to my humanity." 1
1 Jamieson, Fausset, and Brown Commentary, Electronic Database. Copyright © 1997, 2003, 2005, 2006 by Biblesoft, Inc.
---