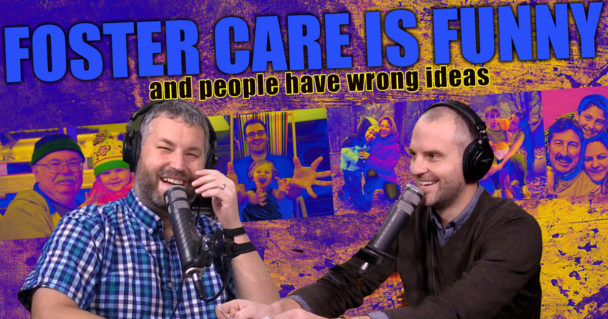 Topic Notes
The funny awkwardness of Foster Care
Ten Wrong (and Right) Ideas About Foster Care:
1. Myth: Kids in foster care are there because they are juvenile delinquents.
This is rarely the case.
Sometimes the parents have made bad choices.
2. Myth: Kids in foster care are so emotionally damaged there is nothing that can be done to fix them.
Children in foster care have been wounded but not irreparably.
Investing time in these kids can have a very positive effect on them.
Healthy attachments are important for healing.
God uses healthy homes to heal.
3. Myth: You have to be married to be a foster parent.
This is false.
There are a few requirements but it is possible to be single and a foster parent
4. Myth: You have no control over who comes into your home.
You can tell the Social Workers what types of children you are able to care for.
You can say no when Social Workers ask to place a child into your home.
5. Foster parents get too attached to foster kids.
This is true, but a terrible reason to refuse to get involved
There is opportunity for great healing
What you are doing has eternal results!!
6. Myth: You have no rights as a foster parent
DCF has a Bill of Rights for Foster Parents

You have the right to make decisions in connection with the child consistent with the limits and policies of DCF
You have the right to receive training
You have the right to receive financial reimbursement
You have the right to receive services to reach DCF personnel
You have the right to information known to DCF relevant to the care of the child

More Information: Foster Parents' Rights
7. It's too painful
This may be true, but it it is SO worth it.
8. It's expensive
Sure… but there are resources that can be provided for you.
There is also joy in caring for a child in this way.
9. MYTH: After adoption the Biological family can get the kid back
10. MYTH: "The system is broken…"
It seems messy and broken because it starts with messy and broken people.
Seven things you can do even if you don't want to be a Foster Parent:
Pray for them. Find children at AdoptKids.org
Speak up for them. Tell others the importance or become a court appointed advocate (NationalCASA.org).
Provide financially. Give to the church where a portion goes to orphan causes, give to the BIC Spice program, provide for those who can do foster care or adopt, share in a child's adoption fund (Reece's Rainbow).
Support those who help orphans. Mow, baby sit, organize meals for foster parents. Have a shower for a family adopting a child of any age.
Become a foster parent. Adopt a child.
Mentor and care for them by forming a relationship with a foster/adopted children.
Support and care for birthparents who placed or are placing a child with an adoptive family.
Bible Contradiction
Is Revenge Acceptable?
Psalm 58:10-11 vs Proverbs 24:17-18
Topics
---