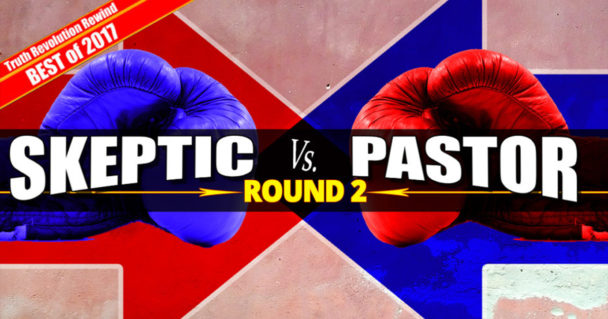 Topic Notes
This is Part 2. Check out Part 1
20 – Why would you trust 'God's plan' given his track record of many failures?
21 – A disciple of Christ, Thomas, was a skeptic. He walked with Jesus during his time on earth and physically witnessed with his own eyes certain miracles performed by him such as raising Lazarus from the dead and so forth. However, after the crucifixion, Jesus supposedly rose three days later and Thomas did not believe it was truly him despite being told, prior to the incident by Jesus, that he would rise again in three days. Thomas required physical proof. Jesus allowed him to touch him and feel the wounds in his body to offer that proof to Thomas. Why doesn't god extend the same proof to humans alive today? Those that doubt his existence are no different than Thomas, requiring physical proof and he was a disciple of Jesus himself. If Thomas had been born one generation later, or even living today, he would have burned in hell for all eternity because he would not believe for the lack of physical proof. Paul was born after the death and ascension of Christ. Throughout his life, he did not believe that Jesus was the son of God and even went out of his way to persecute and murder Christians thinking that their religion was a dangerous belief system to practice. Lo and behold a flash of light came out of the sky and Jesus Christ himself appeared to Paul explaining to him that he is actually the one true god. Jesus told him that he was persecuting the followers of the only true faith. From that point on, Paul was a converted Christian. Again, if God was willing to go out of his way to physically prove to Paul that he actually exists, why is this not done today? Why isn't God willing to show those that doubt today the same degree of physical proof? Why should we be any different than Thomas and Paul?
22 – Christians argue evolution by asking why there aren't any half-ape/half-men walking around today, right? Why don't we see giants, fiery talking serpents, talking donkeys and many other mythical creatures that are described in the Bible?
23 – If we are to only have sex for the purpose of pro-creation, and to do so outside of the scope of pro-creation is sinful, then why would God create us with an over abundance of nerve endings in our reproductive organs making sex extremely pleasurable? It sounds like yet another set-up.
24 – Why do Christians share the same statistical rate of divorce as everyone else? "What God hath made, let no man put asunder." How could Christian marriages fail if they are sanctified by God? Hmmmm…. interesting.
25 – In the book of Luke chapter 19 verse 27, Jesus says, "But those mine enemies, which would not that I should reign over them, bring hither, and slay them before me." This seems pretty clear that Jesus would have Christians kill all non-believers. How do you explain this? Convert them or kill them, right?
26 – If God created everything, why did he create AIDS, influenza, ebola, ecoli and so on and so on? These, as viruses, are living things. You definitely can not use the free will card for this one. Is this another part of 'God's plan'?
27 – How can God answer a prayer giving a working-class man in the United States a raise at his place of employment so that he can move his family into a larger house, but he does not answer the prayers to stop the starvation and disease of millions upon millions of children around the world? This must be another infinitely wise part of 'God's plan'.
28 – If God's word is supposed to be the accurate word of God himself, how are we supposed to trust it enough to model our lives after it 100% when hundreds of books were excluded from the original text throughout so many translations and revisions in history?
29 – Why is there no evidence of any of the miracles performed by God? None whatsoever.
30 – If God and Jesus are the same, having the same mind, knowledge and power, then why would Jesus beg himself in the garden of Gethsemane, to spare himself from having to be crucified? Furthermore, why would Jesus ask himself why he has forsaken himself by allowing himself to be crucified?
31 – If you believe that your eternal life is more important than your physical life and you believe that all children are innocent in the eyes of God, why not kill your children so they are guaranteed to go to heaven? You can't tell me that it is because killing is a sin. First of all, you could repent thereafter and be forgiven. Secondly, if you would sacrifice your life for your child who is about to be hit by a train, and you believe your eternal life is more important than this life, then it would stand to reason that you should kill your children to ensure their entrance into heaven before they are old enough to be held accountable for being a creature of sin, right?
32 – If you do believe that children are innocent in the eyes of God, wouldn't it be reasonable to suggest that abortion doctors are winning more souls for Christ than Christian missionaries? Why not bomb a pre-school? That would surely win a lot of souls for Christ.
33 – If you do not believe that children are innocent in the eyes of God, wouldn't it be fair to suggest that God is a monster for sending babies and toddlers to hell upon their death? Do you see the conundrum here?
34 – It is a common belief among Christians that the only unforgivable sin is consciously rejecting Christ as Lord and savior. With that said, it is also believed by Christians that those who have never heard of Jesus and the Christian faith, i.e. individuals within an isolated tribe, babies and so forth, have no concept of Christ and can not, therefore, be in the position to consciously reject him. This would allow them entrance into heaven by default. With that said, why would you tell anyone about Christ? Why would you spread the word if that would put them in the position to consciously reject him? If they are already going to heaven due to their ignorance of the word of God, why not just let that be? You would, in effect, be losing more souls to Satan by spreading the word. You might want to rethink that whole "fishers of men" thing.
35 – Imagine that I had the power and ability to feed millions and end all suffering. Now, imagine that I simply chose not to do so because these millions of people that are suffering did not like me. You would probably like me even less then, right? Then why does God get a 'get out of jail free card' on that one? Wait a minute, 'God's plan,' right? Gotcha.
36 – Why are more atrocities committed in the name of God than anything else?
37 – The bible states that it is easier for a camel to fit through the eye of a needle than it is for a rich man to enter the kingdom of heaven. If it is fairly difficult for the rich to go to heaven then why are there wealthy Christians? Why wouldn't these rich Christians give up all of their wealth to make it easier for them to enter the kingdom of heaven and help out their fellow man because their God won't?
38 – Building upon the previous question, if it is almost impossible for the rich to enter the kingdom of heaven, then why would God create heaven as having pearly gates, streets of gold and many mansions? It sounds like he wants us to be poor in life so that we will want to be rich in the afterlife, maybe? Is God using the sinful value of greed to attract humans to believe in him? Does that make any sense whatsoever?
39 – If God is perfect then his creations should be perfect, right? Then that would mean that the earth is a perfect creation. Then why would God have to create another perfect place, heaven, and use it to entice us to believe in him? What kind of assurance do we have that heaven would be any better than his other 'perfect' creation, earth?
Links
The links below pertain to question #24, above.
Less than 1% of couples who pray together daily get a divorce.
Resource
Couples who pray together are significantly happier.
Resource #1
Resource #2
Protestant couples are 35% less likely to divorce than the rest of the public.
Resource
---