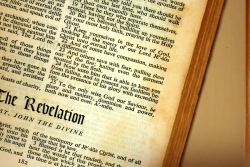 What can we learn from the opening and closing of the book of Revelation?
[audio:http://www.truthrevolution.tv/show/TS-0244.mp3]No Flash Support? Use this Audio Player!

Download the MP3
COMMENT BELOW!
Audio Transcript
Dave: When will the book of Revelation occur?

Jeff: Well, let's look to the book itself!

Dave: The opening of a book is the most important paragraph and sentence.

Jeff: It sets the expectations for the rest of the information provided. So, let's examine closely the very first sentence in the book of Revelation.

Dave: Revelation 1:1- that's the VERY FIRST VERSE in the book of Revelation says this:

Jeff: "The revelation of Jesus Christ, which God gave him to show his servants what must soon take place. "

Dave: SOON? The first verse says it will happen SOON!

Jeff: Like the opening, the end of a book is very important to draw the most important conclusions. Look at the last section of Revelation:

Dave: Revelation 22:10 says, "Do not seal up the words of the prophecy of this book, because the time is near."

Jeff: What is the plain meaning of these verses? That the book of Revelation would mostly be fulfilled very near to the time of its writing.

Dave: And the book was written around 60 AD.

Jeff: Interesting that most of the prophecies were also fulfilled around 70 AD.
---