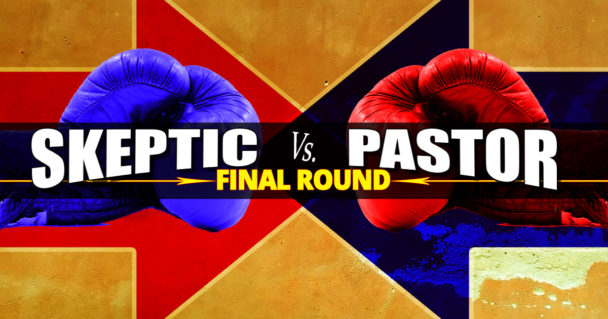 Topic Notes
40 – God allowed Jesus to be tempted as a human by Satan in the wilderness of the desert. Again, if God and Jesus are the same entity, then what kind of sense does it make for God to allow himself to be tempted by Satan in the wilderness to see if he would give in to the temptation? In addition to that, if he were all-knowing, he would have already known the outcome and, therefore, could have avoided the whole thing all together.
41 – If heaven is to be a place free of sadness, pain and suffering, then how can you be happy in heaven knowing that the vast majority of humankind is painfully burning for eternity, especially when some of them may be your loved ones?
42 – Seeing as though everything we, including Christians, enjoy in the modern world is a product of science, why do Christians so fervently deny factual scientific evidence that disproves so many aspects of the bible and their religion as a whole?
43 – If Christianity is the only true religion, then why do practitioners of all other religions feel fulfilled in their faith and achieve the same desired results as Christians?
44 – If God created everything, then why did he create the tree of knowledge of good and evil and put it right in the middle of the Garden of Eden for Eve to eat of its fruit if he didn't want her to? Furthermore, why did God create the serpent that tempted Eve? Uh-oh, it sounds like another possible set-up.
45 – In the beginning God created Adam and Eve, right? Then Adam and Eve had Cain and Abel. What happens next? How did the species propagate itself? Incest is genetically detrimental to offspring. It is also seen as being terribly immoral among the majority of people alive today, including Christians. There was either some incest going on or God created more people from scratch and we weren't told about it. The same scenario applies to the flood incident. Sure, Noah's three sons had wives, but that would still mean that, out of the eight remaining individuals on the planet, there is only a 50% variation of genetic code. Mathematically, inbreeding was sure to be necessary to replenish the earth.
46 – Why does God allow things to happen among his followers that he has already deemed to be sinful, i.e. incest example above, "thou shall not kill" and so forth, and it is alright as long as it is done in his name? Remember, more deaths have occurred in history in God's name.
47 – How did Adam live to 930, Seth 912 and Methuselah 969 years old when anthropological evidence shows that we have progressively increased our longevity throughout history? If they did live that long back then, this concept would be reversed and our longevity should have been decreasing throughout history, right? That would mean that people 500 years ago should have lived to at least 200 years old. Why do we not find evidence of this throughout written historical birth and death records as well as archaeological and anthropological evidence?
48 – God has killed more people than Adolf Hitler, Benito Mussolini, Sadam Hussein, Milosevic, Osama Bin Laden and Jim Jones combined. Why would you not follow them instead of God? Based on this standard, these monsters are compassionate compared to God.
49 – Why is it that when a Christian is faced with questions that have huge negative implications towards the logic of their faith, they conveniently say that it is in God's plan? Is the scope of their own understanding of the religion and God they have offered their souls to so limited that their only answer is 'God's plan'? Judging by the above mentioned failures, God's plan does not seem to be a very good one.
50 – Why would God give us the capability of logic and reason and expect us not to use it when it comes to belief in him and his word?
---