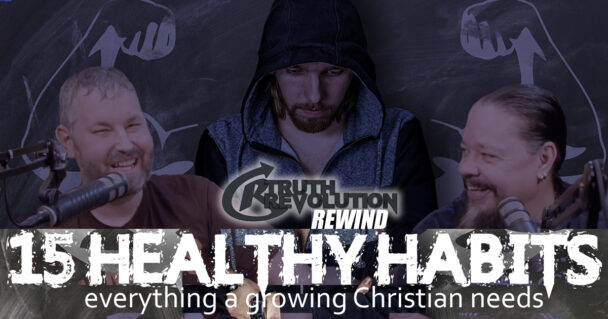 Topic Notes
REWIND: This show originally aired Jan 6, 2019
1. Daily Bible reading and meditation on it.
Psalms 1:2-3
2. Daily, locked-in-your-room-type-of, prayer time.
Matthew 6:5-6
3. Regular study (back and forth between the Bible and theology books).
Diving Deeper
Diving Deeper – Part 2
4. Weekly planned-out ridiculous generosity with your money.
Matthew 6:19-21
5. Periodic suffering/persecution for doing good.
Philippians 3:10-11
James 1:12
6. Daily Christian community engagement.
7. 80%+ of your music playlist is Christian music.
8. Attendance and service in a Church on a regular/multi-times a week basis.
9. Periodic solitude with God (like a whole day every month or so).
10. Regular confession among your brothers/sisters.
James 5:13-16
11. Weekly, or more, loud singing worship of God (both with the community and alone).
12. Regular practice of submitting to another Christian out of respect when you disagree (=changing your life).
Ephesians 5:21
13. Periodic simplifying (getting rid of "stuff" that clutters your schedule/budget/home/mind/life).
CORE VALUE #9: Living Simply. "We value uncluttered lives, which free us to love
boldly, give generously and serve joyfully."
Luke 10:41-42
14. Regularly noticing and then killing, changing, or renewing of Christian phrases and things you do that have become cliche/old.
15. Daily seeking of wisdom.
Proverbs 4:5-6
---