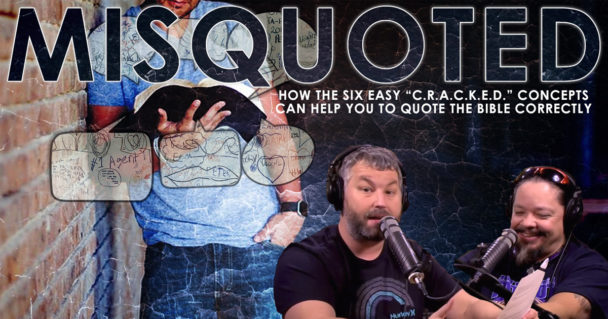 Topic Notes
CRACKED – What is it?
Context
Revealed
Author's intent
Credibility
Knit together
Early meaning and manuscripts
Dialect
Context
Philippians 4:13
"I can do all this through him who gives me strength."
Philippians 4:11-15
I have learned to be content whatever the circumstances.  I know what it is to be in need, and I know what it is to have plenty. I have learned the secret of being content in any and every situation, whether well fed or hungry, whether living in plenty or in want. I can do all this through him who gives me strength. Yet it was good of you to share in my troubles.
Revealed
1 Corinthians 2:13 says, "This is what we speak, not in words taught us by human wisdom but in words taught by the Spirit, explaining spiritual realities with Spirit-taught words."
Proverbs 29:18
"Where there is no vision, the people perish:" (King James Version)
Proverbs 29:17
Where there is no revelation, people cast off restraint; but blessed is the one who heeds wisdom's instruction.
Author's Intent
Matthew 7:1
"Do not judge, or you too will be judged."
Matthew 7:1
Do not judge, or you too will be judged
Was Jesus intention for us to NEVER point out when someone is wrong?
Ignoring someone's sin is not the same as not judging them!!!
What should we do?
Good choice: Galatians 6:1-2. Bible never says punish! If there is revenge, it's God's anyway
Credibility
1 Timothy 6:10
"Money is the root of all evil"
Actual verse:
1 Timothy 6:9-10
Those who want to get rich fall into temptation and a trap and into many foolish and harmful desires that plunge people into ruin and destruction. For the love of money is a root of all kinds of evil. Some people, eager for money, have wandered from the faith and pierced themselves with many griefs.
Knit Together
2 Chronicles 7:14-15
"if my people, who are called by my name, will humble themselves and pray and seek my face and turn from their wicked ways, then I will hear from heaven, and I will forgive their sin and will heal their land."
This is part of the Davidic Covenant.
We have to go back many years –
2 Samuel 7:12-16
I will raise up your offspring to succeed you, your own flesh and blood, and I will establish his kingdom. He is the one who will build a house for my Name, and I will establish the throne of his kingdom forever. I will be his father, and he will be my son. …Your house and your kingdom will endure forever before me; your throne will be established forever.'"
THAT IS POINTING TO JESUS!!!!
But, for Solomon this promise was conditional:
2 Chronicles 7:19-20
"But if you turn away and forsake the decrees and commands I have given you and go off to serve other gods and worship them,  then I will uproot Israel from my land, which I have given them, and will reject this temple I have consecrated for my Name. This temple will become a heap of rubble. All who pass by will be appalled and say, 'Why has the Lord done such a thing to this land and to this temple?'
Later on – (1 Kings 11) we see Solomon and many others leave God.
SO GOD EXILED THEM!!! The Temple was even destroyed.
It was a sign spanning thousands of years that God was executing judgment upon them.
Sometimes, God punishes people or nations who do wrong. But, God promised to
be attentive to the prayers offered in that Temple – he wanted to heal them.
HOWEVER: If Israel worships other gods, God will reject the Temple and it will
become a "heap of rubble."
KNIT TOGETHER… Fast forward all the way to Jesus.
Matthew 24:1-3
Jesus left the temple and was walking away when his disciples came up to him to call his attention to its buildings. "Do you see all these things?" he asked. "Truly I tell you, not one stone here will be left on another; every one will be thrown down."
As Jesus was sitting on the Mount of Olives, the disciples came to him privately.
"Tell us," they said, "when will this happen, and what will be the sign of your coming and of the end of the age?"
Lots of people think this is talking about the end of the world.
But, what object were the disciples talking about in verse 1? THE TEMPLE!!!!
THEY REJECTED JESUS, and…
Only a few decades later , do you know what happens to that Temple which had stood for 500 years?
An epic battle called,"The Siege of Jerusalem" takes place.
The future Roman Emperor Titus conquered Jerusalem.
No guns, but during this war 1.1 million people were killed. Mostly Jews.
97,000 were captured and enslaved.
AND…. The Israelites rejected Jesus as their Messiah, and crucified him, and soon after their Temple becomes a heap of rubble.
THE TEMPLE IS OBLITERATED!!!
And hasn't been rebuilt, even today, 2,000 years later THE TEMPLE IS GONE!
The reality is: If you aren't worshiping Jesus, you aren't worshiping God.
If you aren't obeying Jesus, you aren't obeying God.
Early Meaning and Manuscripts
Jeremiah 29:11-12
"For I know the plans I have for you," declares the Lord, "plans to prosper you and not to harm you, plans to give you hope and a future."
Usually we connect this to the early meaning of words.
What was the HEBREW, etc
But, for this – the early meaning of "plans" – what did God mean by "PLANS" for them? What were these good plans?
70 YEARS OF SLAVERY!
Jeremiah 29:10-11
Dialect
Proverbs 22:6 – "Start children off on the way they should go, and even when they are old they will not turn from it."
What is the dialect here?
Proverbs 1:2-3
for gaining wisdom and instruction; for understanding words of insight; for receiving instruction in prudent behavior, doing what is right and just and fair;
---