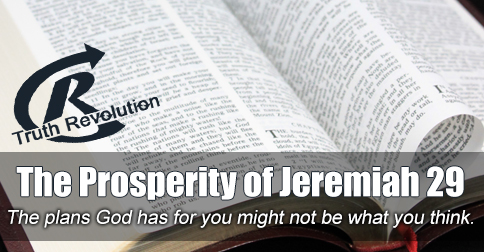 God has plans for each of us. Sometimes those plans include discipline and struggles.
[audio:http://www.truthrevolution.tv/show/TS-0319.mp3]No Flash Support? Use this Audio Player!

Download the MP3
COMMENT BELOW!
Dave: Jeremiah 29:11-12 says, "For I know the plans I have for you," declares the Lord, "plans to prosper you and not to harm you, plans to give you hope and a future."

Jeff: Ah yes, God has great things in store for you. He just wants you to hope, because your business will succeed and everything you want will…

Dave: Jeff…

Jeff: Yeah?

Dave: That's not what it means. Let's read the context.

Jeff: Yes – the context of "plans" – what did God mean by "PLANS" for them? What were these good plans?

Dave: 70 YEARS OF SLAVERY!

Jeff: Listen to Jeremiah 29:10-11: "10 This is what the Lord says: "When seventy years are completed for Babylon, I will come to you and fulfill my good promise to bring you back to this place. 11 For I know the plans I have for you…"

Dave: So, next time you hear that verse be careful to not suggest that it means God will do all kinds of positive things you're thinking about.

Jeff: Certainly God always does what is good. Sometimes, that is 70 years in a foreign country.
---