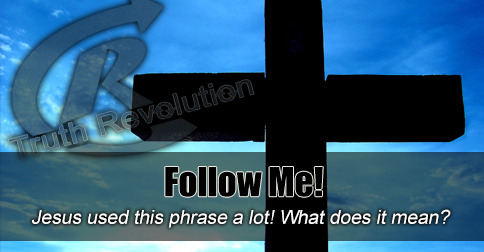 Jesus calls us to "Follow HIM". What does that mean?
[audio:http://www.truthrevolution.tv/show/TS-0303.mp3]No Flash Support? Use this Audio Player!

Download the MP3
COMMENT BELOW!
Dave: Follow Me.

Jeff: No.

Dave: But, I found a really cool rock.

Jeff: No.

Dave: Awww…

Jeff: "Follow Me" is a really important phrase, though.

Dave: Jesus used it a lot.

Jeff: The Bible records 22 uses of that phrase, by Jesus. For instance, in Mark 1:17 we read: "Come, follow me," Jesus said, "and I will send you out to fish for people."

Dave: And it's followed up by "At once they left their nets to follow him" (Mark 1:18).

Jeff: Simple: Jesus calls out, "FOLLOW ME" and we either follow him, or we don't.

Dave: But what happens if we do?!

Jeff: We like to make things overly complicated, right? This is not about politics or family or culture or how the future will turn out… it's about seeing Jesus go… and following him. Hearing his voice, and obeying him.

Dave: Those who followed Jesus saw miracles, did miracles, and were part of changing the world! I can only imagine what Jesus might do through me, if I follow him.
---