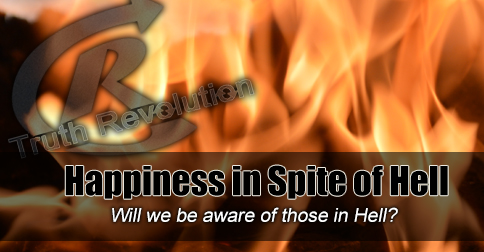 Won't the knowledge of loved ones in Hell make us sad in Heaven?
[audio:http://www.truthrevolution.tv/show/TS-0292.mp3]No Flash Support? Use this Audio Player!

Download the MP3
COMMENT BELOW!
Audio Transcript
Dave: When we're in Heaven, will we know who is in Hell? And won't that make Heaven miserable for us?

Jeff: Yep we will probably know who is in hell.

Dave: Luke 16 makes that pretty clear.

Jeff: Now, we aren't the judge – God is – but, in all reality you probably know some people who may be in hell right now.

Dave: Interestingly we are capable of experiencing happiness right now.

Jeff: That knowledge, although sad, doesn't completely take away from our ability to delight in good things.

Dave: On a small scale, imagine moving to a much nicer, brand new, home.

Jeff: You'll miss the old one, but the greatness of the new home makes your suffering pale in comparison.

Dave: That's true. In addition, you'll fully understand why someone is in hell, and how it even fits with God's justice and goodness.

Jeff: There will be no question about fairness. We'll understand the choice those people made, and how the love of God fits in with allowing them that choice.

Dave: So, yes, we may know who is in hell, but no that will not make the next life miserable for us.
---