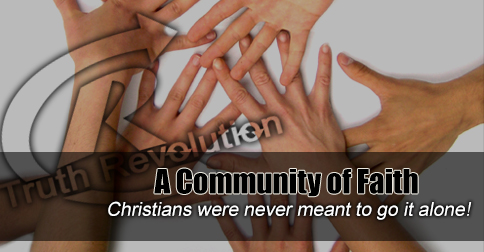 Christians should always tend toward Christian Community. The thought that one does not NEED church runs counter to what the Bible teaches.
[audio:http://www.truthrevolution.tv/show/TS-0279.mp3]No Flash Support? Use this Audio Player!

Download the MP3
COMMENT BELOW!
Audio Transcript
Dave: Christianity is not a SOLO exercise.

Jeff: Owen Alderfer said, "Individualism is a dangerous heresy which allows barriers to be erected between brethren and cuts one off from the inspiration and discipline of the whole. Brethren need one another in the identification of Christian thought." ("The Brethren Mindset." In Reflections on a Heritage.)

Dave: The idea that I don't need others is heresy. It stops me from becoming mature and cuts me off from the love of the Church. WE NEED EACH OTHER!

Jeff: Just read Ephesians 4:11-16. It becomes clear that we were created to assist each other. We need a community of faith.

Dave: The goal of Church, and our faith is to reach unity with fellow followers of Jesus, to know Jesus, and become mature like Jesus!

Jeff: To think we can do that without other believers, is honestly, crazy.

Dave: The Church is there to remind us how to live a holy life…

Jeff: To hold each other accountable, be encouraged… and learn about God…

Dave: It's also to be a place where you use your gifts and talents to help other people achieve those goals, as well!
---