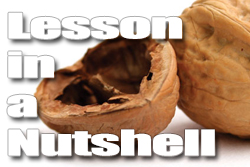 Is the way I live my life indicative of my priorities? ABSOLUTELY!
[audio:http://www.truthrevolution.tv/show/TS-0258.mp3]No Flash Support? Use this Audio Player!

Download the MP3
COMMENT BELOW!
Audio Transcript
Dave: 1 Thessalonians 4:1 says, "we instructed you how to live in order to please God, as in fact you are living. Now we ask you and urge you in the Lord Jesus to do this more and more."

Jeff: The way we behave and walk through our day should make God smile… be pleasing to Him. Have you ever thought about what it means to please God?

Dave: Some people live to please themselves – They want the perfectly painted home; nice flowers in the front; big porch swing; nice hard wood floors – don't forget the flat screen TV!

Jeff: Or some people want a nice Religion. Quaint church, good entertainment, good activities for the family.

Dave: None of those things are bad in themselves. But often people are walking to please themselves first and leave pleasing God as a #2 priority.

Jeff: THE QUESTION I WANT YOU TO ASK WITH ANY ACTIVITY IS THIS: Am I pleasing myself at the expense of pleasing God?

Dave: For instance, is my TV watching preventing me from doing some good thing?

Jeff: We can literally be entertaining ourselves to Spiritual death.
---