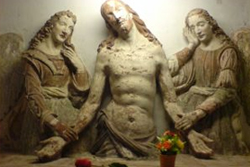 Paying attention to the language and culture of first century Israel helps us to understand the weight of Jesus' claims
[audio:http://www.truthrevolution.tv/show/TS-0223.mp3]
No Flash Support? Use this Audio Player!

Download the MP3
COMMENT BELOW!
Audio Transcript
Dave: Did Jesus claim to be God?

Jeff: Psalm 23:1 says "The LORD is my shepherd" – notice that God is called the shepherd. For Jews, GOD ALONE was the shepherd of his people.

Dave: But in John 10:11 Jesus says, "I am the Good Shepherd."

Jeff: Whoa!

Dave: Whoa is right. He called himself the Shepherd!

Jeff: Not only that – remember that elsewhere Jesus says that ONLY GOD IS GOOD!

Dave: And here he says he is good.

Jeff: Put those together. Only God is the Shepherd. Only God is good.

Dave: And Jesus just said, "I am the Good Shepherd." That's huge.

Jeff: To understand whether or not Jesus claimed to be God we have to read the Bible understanding their language and culture.

Dave: When we do that it becomes pretty clear that Jesus made the outstanding claim of Deity.

Jeff: In Matthew 28:16-20 Jesus receives worship.

Dave: In John 8:58-59 Jesus calls himself the "I AM" which was God's name.

Jeff: So, as you read, pay attention to Jesus' claims in light of his culture.
---