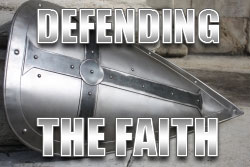 There is a growing idea in our culture that Christianity is for the feeble minded. That premise could not be further from the truth.
[audio:http://www.truthrevolution.tv/show/TS-0215.mp3]
No Flash Support? Use this Audio Player!

Download the MP3
COMMENT BELOW!
Audio Transcript
Dave: A third reason for Apologetics is to counteract the image Christianity has as uneducated and close-minded.

Jeff: Now days the atheist scientist appears, in our culture, as the beacon of truth.

Dave: It is important to demonstrate that we seek the Truth, and do not merely attempt to give quick answers to profound questions.

Jeff: I don't know about you, listener, but I've encountered far too many people who see Christianity as something to believe if you aren't a thinking person.

Dave: Popular TV, media, Hollywood, and many other outlets seem to leave the impression that Christianity is for the hicks.

Jeff: But, what if we could study and learn deep truths Scientifically, philosophically, and theologically?

Dave: What if when we engaged in a conversation with someone – it was apparent that we were both humble and knew what we were talking about?

Jeff: And we don't mean because we talk too much, but because we have reasonable responses and good questions.

Dave: STUDY AND LEARN, OPINIONS ARE OF NO CONCERN!

Jeff: Take this goal of apologetics and embrace it: counteract the image we Christians get labeled with.

Dave: Demonstrate intelligence.
---