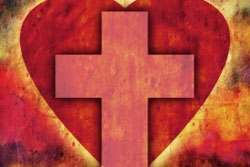 Is Pacifism really a viable mindset and lifestyle?
[audio:http://www.truthrevolution.tv/show/TS-0203.mp3]
No Flash Support? Use this Audio Player!

Download the MP3
COMMENT BELOW!
Audio Transcript
Dave: Why pacifism? Don't we have the right to protect ourselves from people who wrong us?

Jeff: First, we have to respect the life and teachings of Jesus. I especially find that ecclesiology is important for my stance on pacifism.

Dave: Ecclesiology is a study of how the Church works.

Jeff: And think about it – Jesus said that we are the BODY of CHRIST.

Dave: And each of us in the Church is a part of that body.

Jeff: So, if we are the body of Christ as the Church, and each of us is a member, I don't think it appropriate for a member to do something that the body would not endorse.

Dave: Imagine we go to a Church council meeting and say, "This guy did bad stuff. What should our official Church position be?"

Jeff: Would your Church ever say, "This man deserves death, so Revolution Church will shoot and kill him"

Dave: No way!! Since our Church would not do that, neither should I shoot and kill him.

Jeff: We are the hands and feet of Jesus, as the body of Christ the Church! As individuals who are members of that body we cannot do things our body would not do!
---