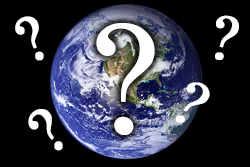 Naturalism inherently rejects ideas that anything non material exists. While this Worldview can solve some issues, there are answers it will NEVER find.
[audio:http://www.truthrevolution.tv/show/TS-0196.mp3]
No Flash Support? Use this Audio Player!

Download the MP3
COMMENT BELOW!
Audio Transcript
Dave: If, in your worldview, naturalistic means are the most rational explanation for any question it may be impossible to find God – even if he were real.

Jeff: Although God may provide plenty of evidence for his existence, you would write it off! The assumption is a natural explanation.

Dave: As an analogy, imagine a detective at a murder scene who believed that "Gary" had committed the crime – that was the Detective's goal.

Jeff: He may say, "I'll accept any and all evidence! But, if there's a way for it to point to Gary, that's our answer" – just like naturalists point to natural means exclusively.

Dave: What if someone else's blood was found on the body?

Jeff: Obviously Gary injured another person.

Dave: What if Gary had a plane ticket that showed him in a different city?

Jeff: Gary must have had an accomplice good at identity theft.

Dave: What if they realized it wasn't even a murder scene!?

Jeff: Gary must have hid the body!

Dave: If the goal is to arrive at a specific destination, you'll get there. Even if it's not true.
---