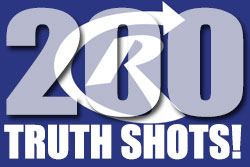 IT'S OUR 200th TRUTH SHOT!!
[audio:http://www.truthrevolution.tv/show/TS-0200.mp3]
No Flash Support? Use this Audio Player!

Download the MP3
COMMENT BELOW!
Audio Transcript
DAVE: It's our 200th Truth Shot!

JEFF: NO WAY!

DAVE: YES WAY!

JEFF: As a celebration, this Truth Shot is about NOTHING!

DAVE: And EVERYTHING! Actually, it's about YOU!

JEFF: ME?

DAVE: NO! The listener!

JEFF: Listener, LISTEN!

DAVE: If you like Truth Revolution, here's how you can help! Remember the acronym: S.H.A.R.P.

JEFF: S is for Share, as in share our posts and information on your twitter, facebook; with your church or other places.

DAVE: H is for Habit. Make it a habit to visit TruthRevolution.tv and see what new updates we have.

JEFF: A is for Ask. Ask questions.. let us know that you listen and.. what are your questions? what are you comments? contact us!

DAVE: R is for Resources. Consider donating financially to help keep us online and on the air.

JEFF: P is for Pray. Pray for us that we will have an effective ministry and that God would use Truth Revolution to help more and more people all the time.

DAVE: So, remember SHARP

JEFF: Share

DAVE: Habit

JEFF: Ask

DAVE: Resources

JEFF: and PRAY!
---