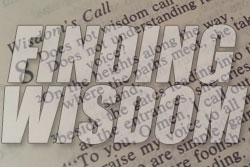 Wisdom! Anyone can have it. Find out how YOU can get it in today's Truth Shot!
[audio:http://www.truthrevolution.tv/show/TS-0201.mp3]
No Flash Support? Use this Audio Player!

Download the MP3
COMMENT BELOW!
Audio Transcript
Dave: If you wanna be wise, you need to know these guys:

Jeff: Prudence, Knowledge, Discretion, Counsel, and Insight.

Dave: In Proverbs 8 we see this list of characteristics that Wisdom possesses.

Jeff: So, if want to be wise it would be good to focus on these characteristics, and ask what they are like.

Dave: So, if you want to be wise you need to know these guys:

Jeff: #1: "Prudence" is having good judgment, being sensible and clever.

Dave: To sum it up we could say, "Don't be fooled."

Jeff: The wise person is clever, aware, and use good judgement about the situations they are in.

Dave: #2: "Knowledge" is the accumulation of information and facts. Find the TRUTH, not just your own opinion.

Jeff: #3: "Discretion" is wise planning and taking actions on purpose. You are constantly thinking through consequences of your actions.

Dave: #4: "Counsel" is accepting advice from wise people.

Jeff: And #5: "Insight" is seeing past the surface into the deep issues of right and wrong; and it takes a willingness to accept the truth, dig deeper, and listen to advice even if we don't like it.
---