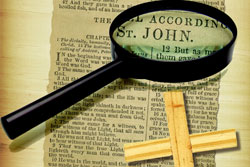 Any attempt to find God on OUR terms is lazy and apathetic. Seeking God requires sincerity in our intentions.
[audio:http://www.truthrevolution.tv/show/TS-0197.mp3]
No Flash Support? Use this Audio Player!

Download the MP3
COMMENT BELOW!
Audio Transcript
Dave: What would compel you to believe in God?

Jeff: Good question – but that question doesn't always work.

Dave: Someone might say, "If God came down here face to face and told me he existed, I'd believe."

Jeff: Well, that's great… but, what if God is real, and he doesn't do that kind of thing?

Dave: I don't believe in deer. But, if one wants to come have coffee with me at Starbucks, I'll happily change my viewpoint.

Jeff: Yeah, ya see, that don't work. If we're looking for deer, we look for them on their terms – in a forest, near a food source, quietly.

Dave: And we have to look for God on his terms. If the Christian God is real, how would he show up?

Jeff: He'd communicate his message through an ancient book, prophecies, and a guy named Jesus who lived 2,000 years ago.

Dave: So to decipher if that is legit or not, we have to ask if the prophecies are true, if Jesus really died and rose from the dead, and so on.

Jeff: We must search the evidence in a way that actually makes sense in the way the evidence is given.
---