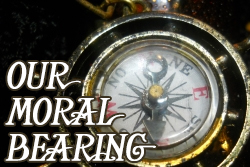 Do we look to our community for our morals? or is there something inherent in our Moral Bearing?
[audio:http://www.truthrevolution.tv/show/TS-0185.mp3]
No Flash Support? Use this Audio Player!

Download the MP3
COMMENT BELOW!
Audio Transcript
Dave: Jeff, as part of our discussion on absolute morality, you will argue that a community cannot determine what is right or wrong in child rearing.

Jeff: I believe that right and wrong are real things. It's evil to murder a child – no matter what a person or community may say about it.

Dave: It is good to feed a child healthy food, no matter what a person or community may say about it.

Jeff: The only job of the "community" (or government) is to step in when there are clear violations of right and wrong that infringe upon a child's safety.

Dave: It's always wrong to burn cigarettes on a child's body. But, not because our community agreed that we don't like it. It's because it is wrong, period.

Jeff: If someone were to say, "But I believe it is good" we wouldn't listen to them and say, "Oh, well for him this is beautiful!" No! We'd say, "There is something wrong in his head!"

Dave: This is why it starts with art: beauty and ugliness, right and wrong, have real properties. It's not merely what a community believes.

Jeff: It's really what's right and wrong despite what a community may believe!

Dave: Amen!
---