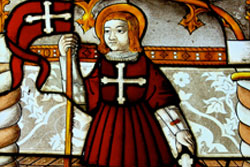 We admit that much evil was carried out during the Crusades, but did you know that many Christians actually died in an attempt to stop the atrocities?
[audio:http://www.truthrevolution.tv/show/TS-0127.mp3]
Download the MP3
COMMENT BELOW!
Audio Transcript:
Dave: Critics love to point out how evil Christianity was during the Crusades.

Jeff: It is important to note that the Crusades were not limited to the Muslims.

Dave: The Crusaders launched attacks against Jews and even fellow Christians.

Jeff: Christians were raped and plundered just as the other victims of the
Crusades.

Dave: It is true that the worst atrocities befell the Muslims during this period…

Jeff: But we should never ignore the fact that the Crusaders crusaded against all
religious people.

Dave: During many of the attacks on Jews, local Bishops and Christians made
attempts to protect them from the atrocity-filled mobs of Crusaders.

Jeff: Many Jews were given protection in churches and other Christian buildings,
but this did not stop the Crusader's quote "Holy War."

Dave: The case can be made that the Crusades were fundamentally political and
not religious.

Jeff: Jesus wouldn't have led them and didn't condone them.

Dave: Anyone who uses the name of Jesus for political gain – especially as they kill
Muslims, Jews, and other Christians is using the name of Jesus incorrectly.
---